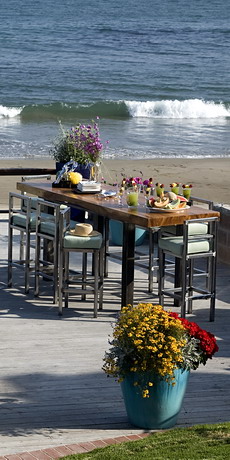 About Montecito Home Staging
John Daly, Jr., President and CEO of John Daly Inc. International Special Events, is excited to announce the launch of his new company, Montecito Home Staging. Daly, a current resident of Montecito, is known worldwide for his elaborate award-winning productions and immaculate sense of design. He is the event designer of choice for an extraordinary list of A-List celebrities and Fortune 500 companies.
After 40 years of pioneering and innovating in the world of temporary environment, Daly is eager to bring his vast knowledge of design to the table in the home staging industry. Daly's unique approach to staging (the process of preparing a home for sale in the real estate market through renovation and décor) focuses on transforming a home into a truly ideal living space. Opposed to simply staging homes for their sale, Montecito Home Staging concentrates on creating unique, alluring, and relaxed environments that are optimal for immediate and permanent living.
From exotic antique to contemporary innovation, vogue European to modern minimalism, Daly is a master of the fine nuances of aesthetic. Pairing décor impeccably with architecture, Montecito Home Staging can convert any ordinary living space into the consummate home.